10 years celebrates a decade of BCGC, formed in 2009.
This album represents what we love about being in Belfast Community Gospel Choir – from upbeat gospel tracks such as 'Hosanna', to the contemplative 'I know something about God's grace'. We've also brought the 'BCGC style' to classics such as 'Oh Danny Boy' and 'You'll never walk alone'.
10 years will have you dancing, crying, but most of all feeling the joy.
Strictly Gospel is a collection of BCGC's favourite gospel songs.  From joy packed tracks, Every Praise, Holy Holy Holy and High and Lifted up to inspiring songs such as Redeemer and God's On Your Side, you can be sure to feel uplifted and refreshed as you listen.
Our collection draws to a close with an original and awe inspiring arrangement of the classic hymn 'How Great Thou Art'.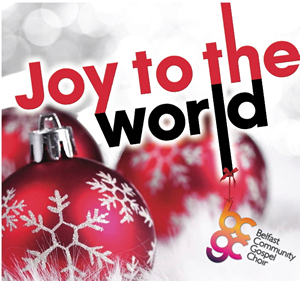 BCGC are all about JOY, and what better time of the year than Christmas??
This album is all about love, joy, peace on Earth, with classics such as "Silent Night", "O Holy Night" and a very BCGC version of "In The Bleak Midwinter".
The perfect stocking filler!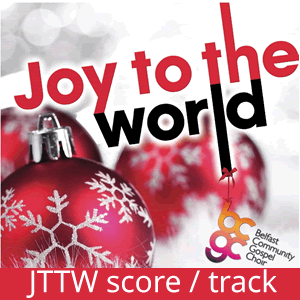 Following our Belfast City Airport flashmob, we're been inundated with requests for the sheet music and backing tracks for our version of Joy To The World.
This £25 bundle contains :
JTTW Sheet music (Soprano, Alto, Tenor)
JTTW Backing track in .mp3 format
JTTW Backing track in .wav format
Once you complete your order, you will receive an email within 48 hours with the download link.
For any questions / queries, please contact [email protected]
Ain't
no

stopping us now!
Packed full of power and passion, AIN'T NO STOPPING US NOW brilliantly demonstrates the sheer joy and excitement exuded by BCGC and, as the title track implies, the choir's desire to take their message of joy to the world.
Foot-stomping songs sit comfortably alongside powerful ballads such as MAKE YOU FEEL MY LOVE and YOU ARE SO BEAUTIFUL and iconic gospel anthems including OH HAPPY DAY.
The album also features NEARER MY GOD TO THEE; BCGC's own moving tribute to the Titanic Centenary commemoration.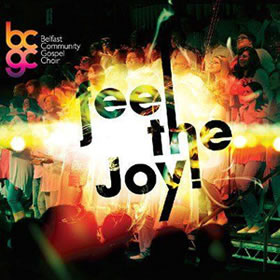 Recorded in Windmill Lane Studios Dublin, FEEL THE JOY is nothing short of a feast of up-beat feel good music and inspiring ballads.
Tracks include: Can You Feel It / Bridge Over Troubled Water / A Little Help From My Friends / Joyful Joyful (from Sister Act).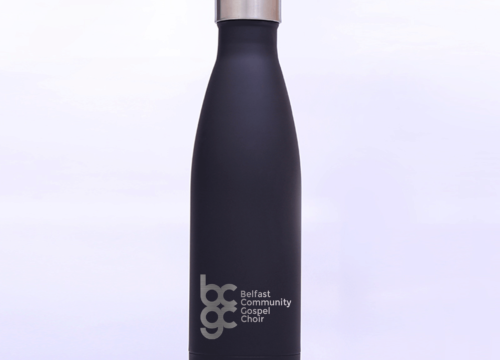 It's really important to keep those vocal chords refreshed – feel like you are on stage with one of our official BCGC water bottles!
Jewels, from BCGC founder and choir director Marie Lacey, is a collection of classic and original songs.
Tracks include Marie's take on the well-loved 'Blessed Assurance', 'He looked beyond my faults' (a duet with Marie's mother, Margaret Leebody), 'Holy, Holy, Holy', and originals such as 'St Patrick's song', written as part of the 2000 millennium celebrations.